UPCOMING
08.21
Track and Field will exhibit at
Cincinnati Art Book Fair
. We'll be launching new titles!
08.21
Track and Field
designed and will publish
Bovine Huff—
a book of poetry from Chicago's Jessie McCarty
10.21
My publication
Untitled
will be part of Landscape Zine Reading Room at Space p11 in Chicago (postponed, originally scheduled for 08.20)
RECENT PAST
06.21
I presented a paper: "Animated Letter: a Case Study for Cross-Cultural Collaboration" (w/ Zlatan Filipović at
MODE (Motion Design Education) Summit 2021
(online)
10.20
I gave a lecture about my publishing and motion design work
"In the Aftermath of an Explosion"
as part of MICA Graphic Design, Fall Visiting Designers, Baltimore, Maryland.
07.20
My zine
After Everything That's Been Said and Done
was part of
Never Alone Zine Exchange
hosted by Reciprocal from Catskill, NY
05.20
I presented "Typography of Absense" at TypeLab for Typographics 2020 (Online)
11.19
Track and Field was part of
2019 Chicago Art Book Fair
If the Roof Does Not Fall, 2019
A reflection on growing up in 80's Soviet Union, listening to Scorpions and Kino, living in Austin apartment comlexes and purchasing pieces of the Berlin Wall on ebay.
Untitled, 2020
A graphic translation of reading the landscape in the Shawangunk region in the Hudson Valley region of New York State. (3-color Riso, booklet-stich)


Reading Tartu, 2018
A project consisting of series of letterpress prints and videos that explores multiple readings and resistance to a singular definition. Glyphs created using the Latin and cyrillic wooden type in the collection of the Tartu Paper and Printing Museum, Estonia. (Letterpress, digital) Post about the residency is
here
.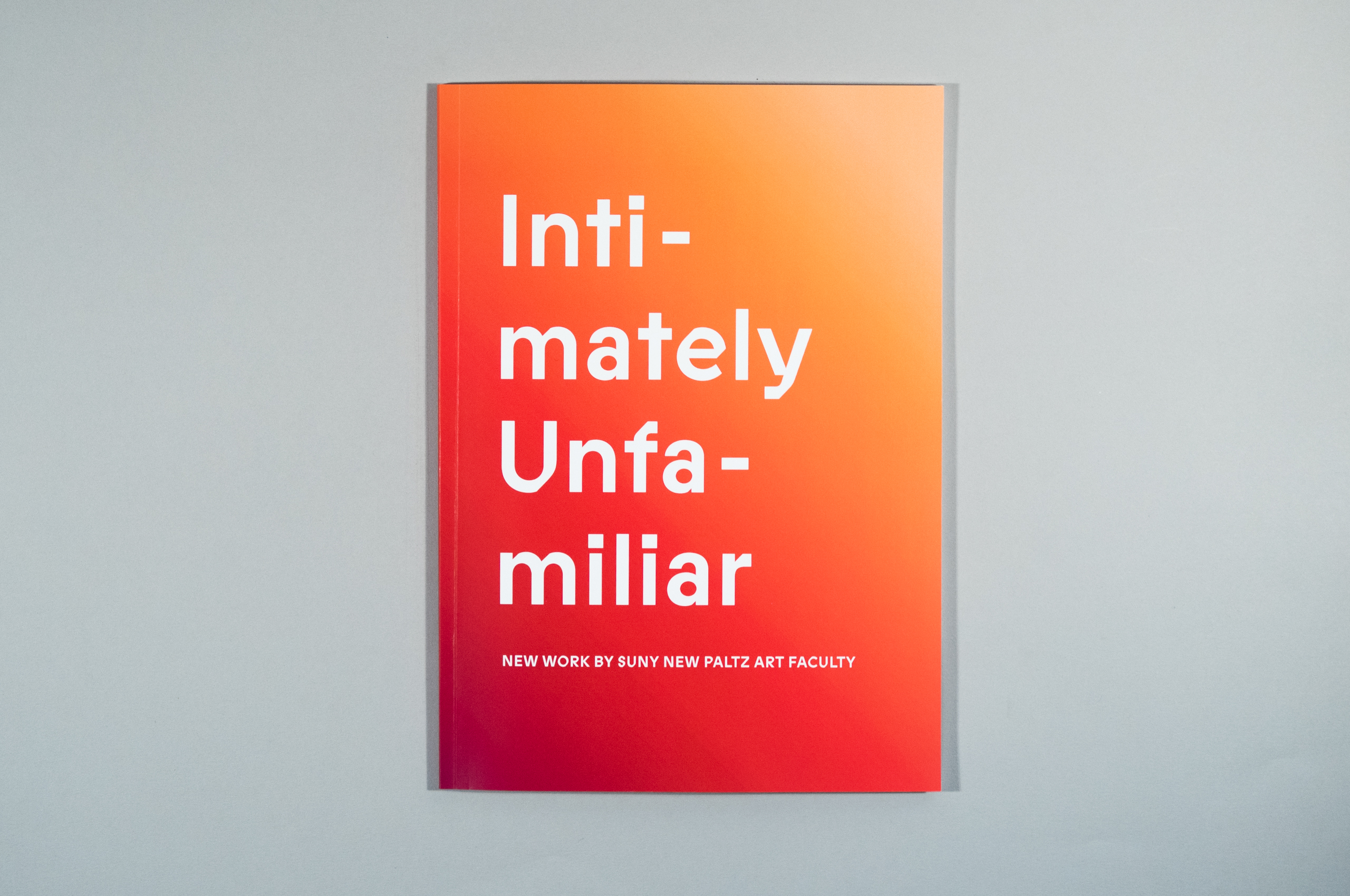 Intimately Unfamiliar, 2017
Catalog for a show of work by SUNY New Paltz Art Faculty at the Dorsky Museum in New Paltz, NY

Water Carries Things to Shore and Brings them Out to Sea, 2017
An edition of 1oz. bottles of water that were collected from the East River in New York and an accompanying publication. Each bottle has a booklet with a website and a password that unlocks a unique 15-sec video of the surface of the East River, hosted on
watercarriesthingstoshore.com
. The publication is an index of all 48 videos.
Project was exhibited at the Internet Yami-Ichi in NY 2 on November 6, 2016, Knockdown Center, Maspeth, NY.
Read more about the event
.
Box of Things, 2016
An edition of 4 RISO prints with 4 accompanying video loops included on an SD card.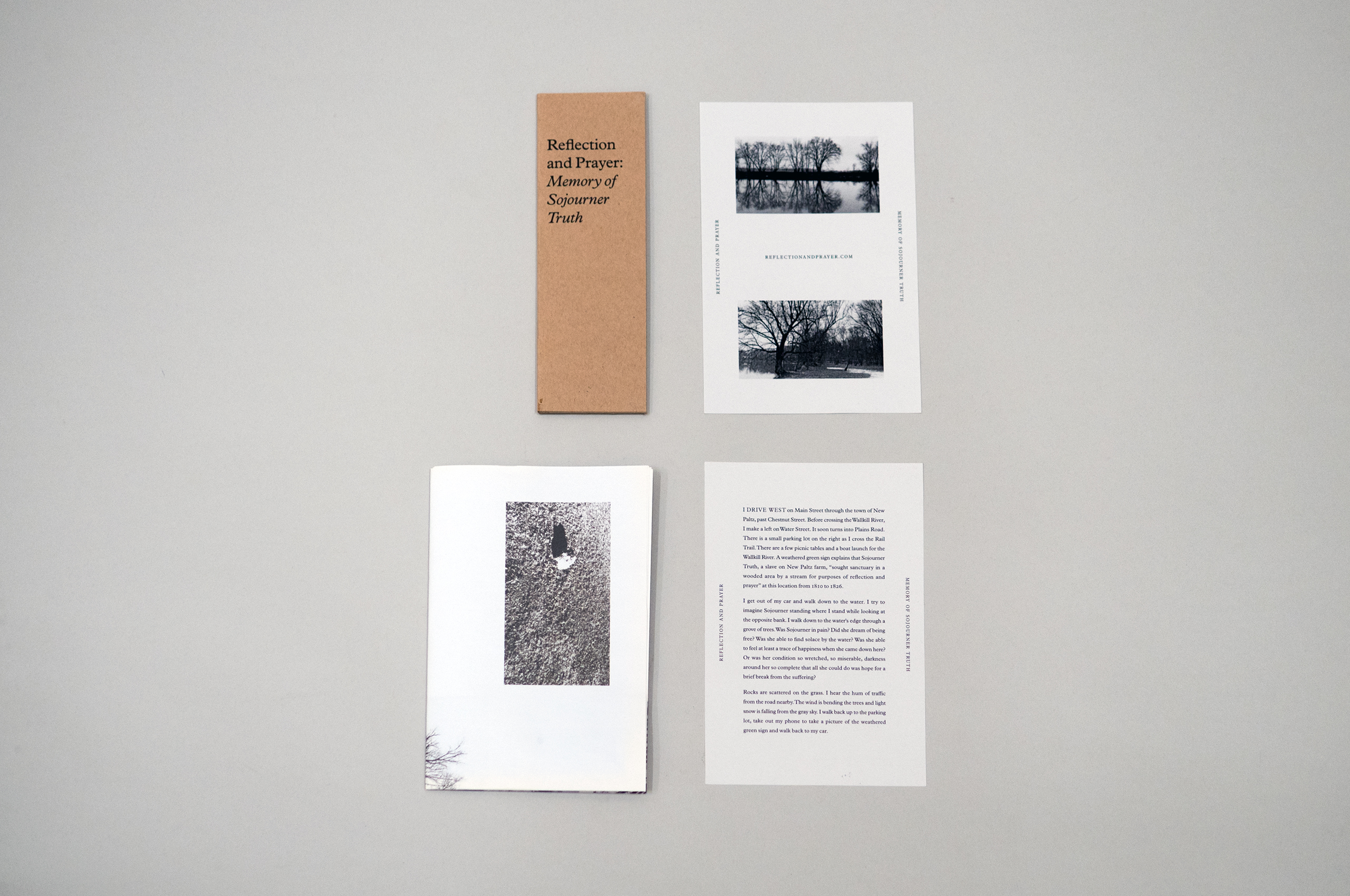 Reflection and Prayer: Memory of Sojourner Truth, 2015
A speculation based around the site where Sojourner Truth, a prolific abolitionist who was enslaved in 19th-century New Paltz, went reflect and pray. Companion website
reflectionandprayer.com
How about a Trip To… (2015–ongoing)

An ongoing series of booklets, How About a Trip To… (North America Vol 1-2; Europe Vol 1-2, World Vol 1), features the reactions of gameshow contestants when presented with trips to various places in the world. The destinations range from Arizona, to New York, to Sequoia Park and the expressions run the gamut from exultant, squeamish, to looks of complete horror. Available for purchase from
Printed Matter.
(1-color laserjet)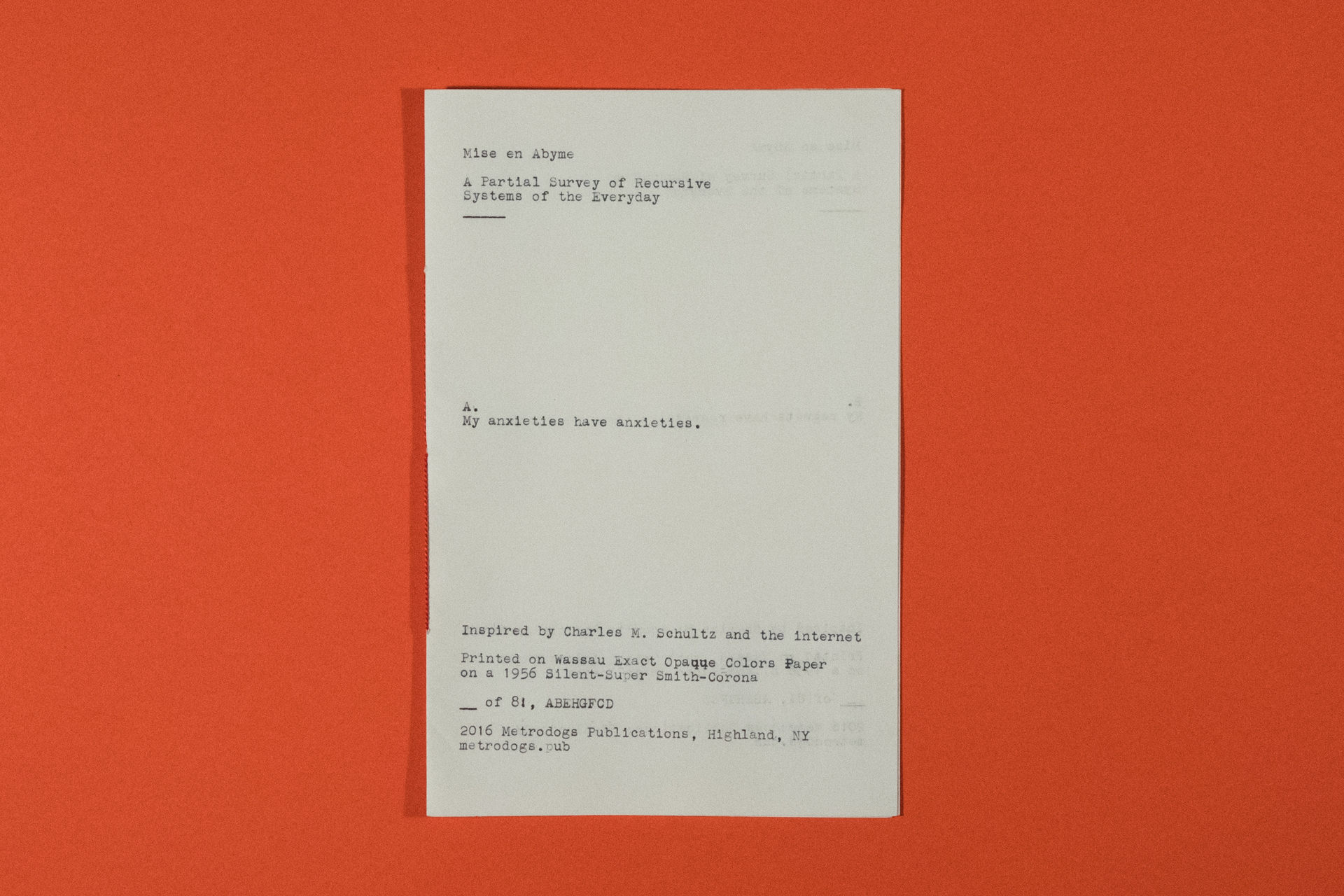 Selected Small Format Publications, 2015–present
Order and Boredom
(2018): Exploration of paring down and organization, 2-color RISO.
Walls: An Incomplete Inventory
(2017): 1-color RISO. Mise en Abyme: A Partial Survey of Recursive Systems of Everyday (2016): typewriter.
I Said I Was Amazing Not That I'm a Mason
(2015): an examination of the word "mason" and its multiple uses and meanings as a proper noun. The publication draws its title from a verse by Jay Z. The publication traces the use of the word "mason" in the names of real and imagined figures: (Nick, Perry, Anthony Mason), geographical concepts (Mason-Dixon Line), design (Mason typeface, Mason Jar), and architectural landmarks that have long-standing associations with the freemasons (Chrysler Building). Buy at
Printed Matter
.