UPCOMING
05.19
I will be presenting my paper "Toward a Transmedia Practice" at MODE (Motion Design Education) Summit 2019 at Massey University, Wellington, New Zealand
PAST
11.18
Metrodogs Publications
was part of Short Run Comics & Arts Festival(11.3.18) and the Chicago Art Book Fair(11.16–18.18)
10.18
I led a letterpress workshop at the Catskills Conference 2018 at the Ashokan Center, Olivebridge, NY
10.18
Metrodogs Publications
was part of Northampton Book Fair and Boston Book Fair
7.18
I presented my paper "'Letterpress as an integral Part of Contemporary Graphic Design Curriculum'" at Letterpress: Past, Present, Future at Leeds University, England
6.18
I was a
Tartu Artist in Residence
at Studio Tartuensis for the month and had a show with the amazing Rukhe Zaidi
05.18
My review of
Milton Glaser: Modulated Patterns
exhibit at the Binghamton Art Museum appeared in the Spring 2018 issue of
Design Issues.
For more see the
CV...
I am a teacher, artist, designer based in the Hudson River Valley. I am currently an Assistant Professor at SUNY, New Paltz. I print and publish at
metrodogs.pub
and work collaboratively and independently in the areas of web, publication and environmental design, motion graphics and branding. If you are interested in collaborating or would like more information, get in touch. Below is a sample of my recent design work. To see samples of other work in the areas of
Print
,
Web
,
Identity
,
Motion
,
Large-Scale
head over
here
.
Reading Tartu, 2018
A project consisting of series of letterpress prints and videos that explores multiple readings and resistance to a singular definition. Glyphs created using the Latin and cyrillic wooden type in the collection of the Tartu Paper and Printing Museum, Estonia. Post about the residency is
here
.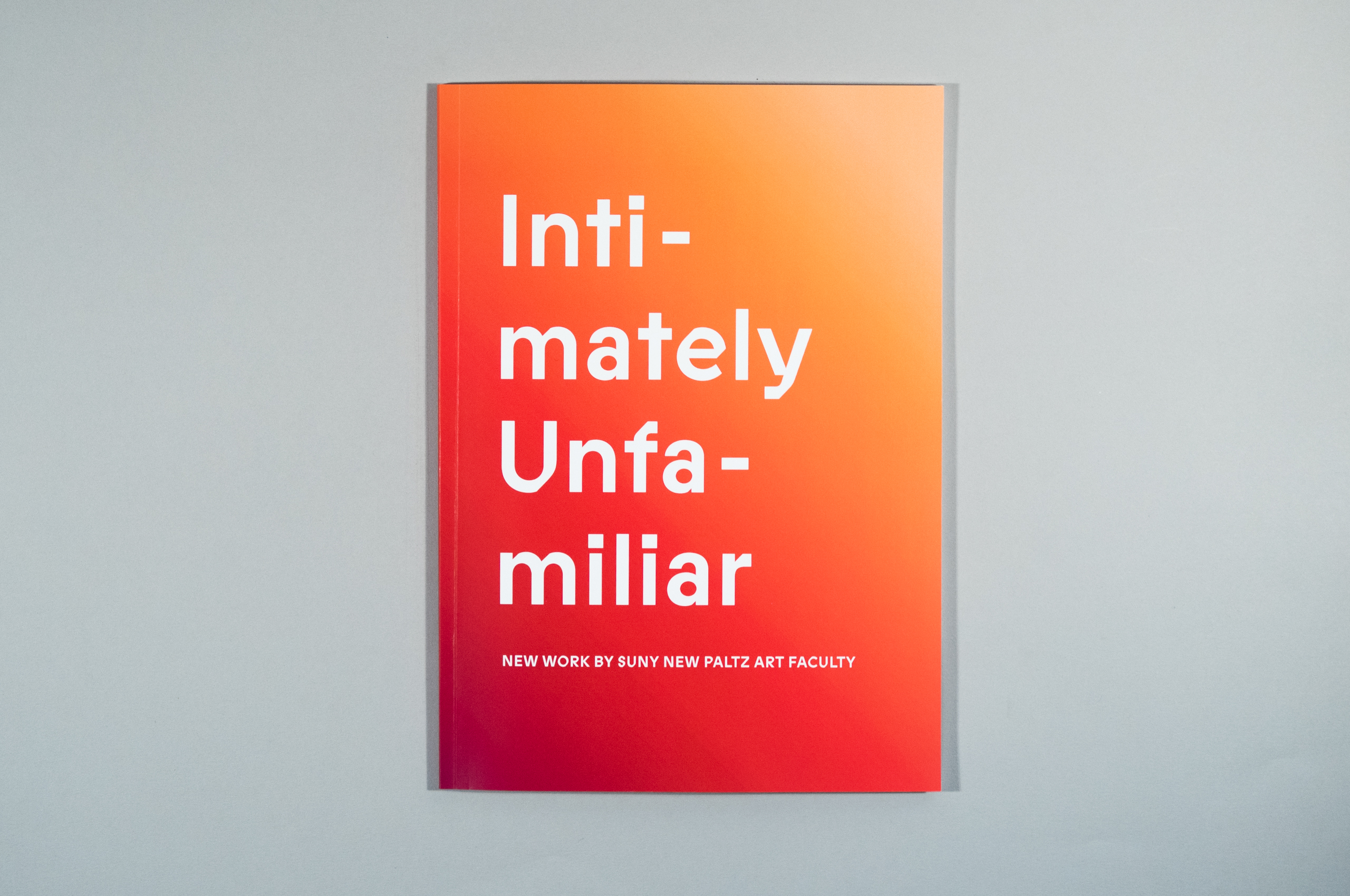 Intimately Unfamiliar, 2017
Catalog for a show of work by SUNY New Paltz Art Faculty at the Dorsky Museum in New Paltz, NY


Water Carries Things to Shore and Brings them Out to Sea, 2017
An edition of 1oz. bottles of water that were collected from the East River in New York and an accompanying publication. Each bottle has a booklet with a website and a password that unlocks a unique 15-sec video of the surface of the East River, hosted on
watercarriesthingstoshore.com
. The publication is an index of all 48 videos.
Project was exhibited at the Internet Yami-Ichi in NY 2 on November 6, 2016, Knockdown Center, Maspeth, NY.
Read more about the event
.
Box of Things, 2016
An edition of 4 riso prints with 4 accompanying video loops that are included on an SD card.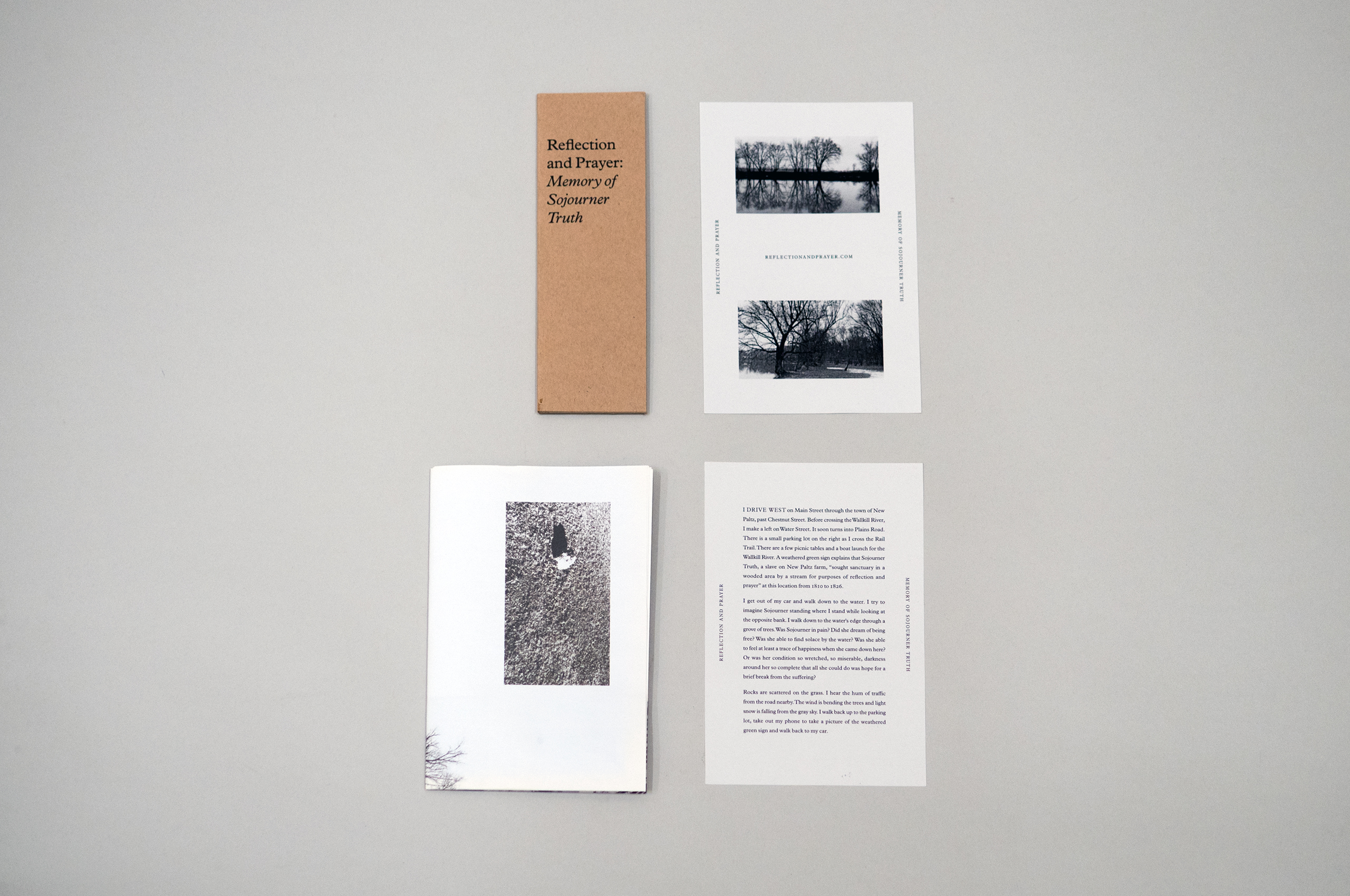 Reflection and Prayer: Memory of Sojourner Truth
A speculative fiction based around the site where Sojourner Truth, a prolific abolitionist who was enslaved in 19th-century New Paltz, went reflect and pray. Companion website
reflectionandprayer.com
(Inkjet, laser, web)
2016 BFA Thesis Catalog
A catalog of the work of graduating seniors from the SUNY New Paltz Graphic Design Program.


Translating Memory and Remeberance Across the Disciplines
Posters and brochure accompanying a conference surrounding the issues of memory at SUNY New Paltz in March 2016


How about a Trip To…

An ongoing series of booklets, How About a Trip To… (North America Vol 1-2; Europe Vol 1-2, World Vol1), features the reactions of gameshow contestants when presented with trips to various places in the world. The destinations range from Arizona, to New York, to Sequoia Park and the expressions run the gamut from exultant, squeamish, to looks of complete horror. Available for purchase from
Printed Matter.
(1-color laserjet)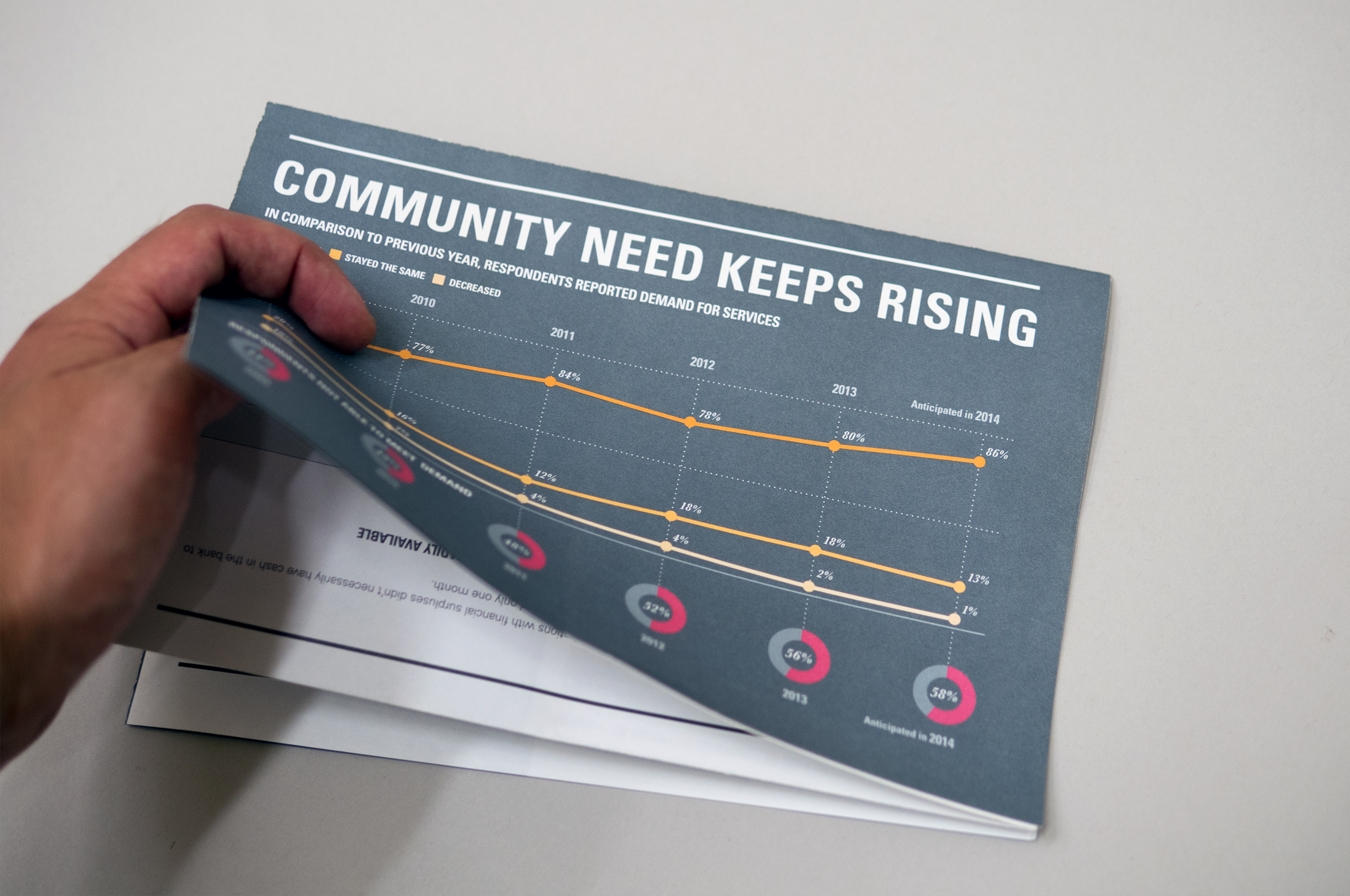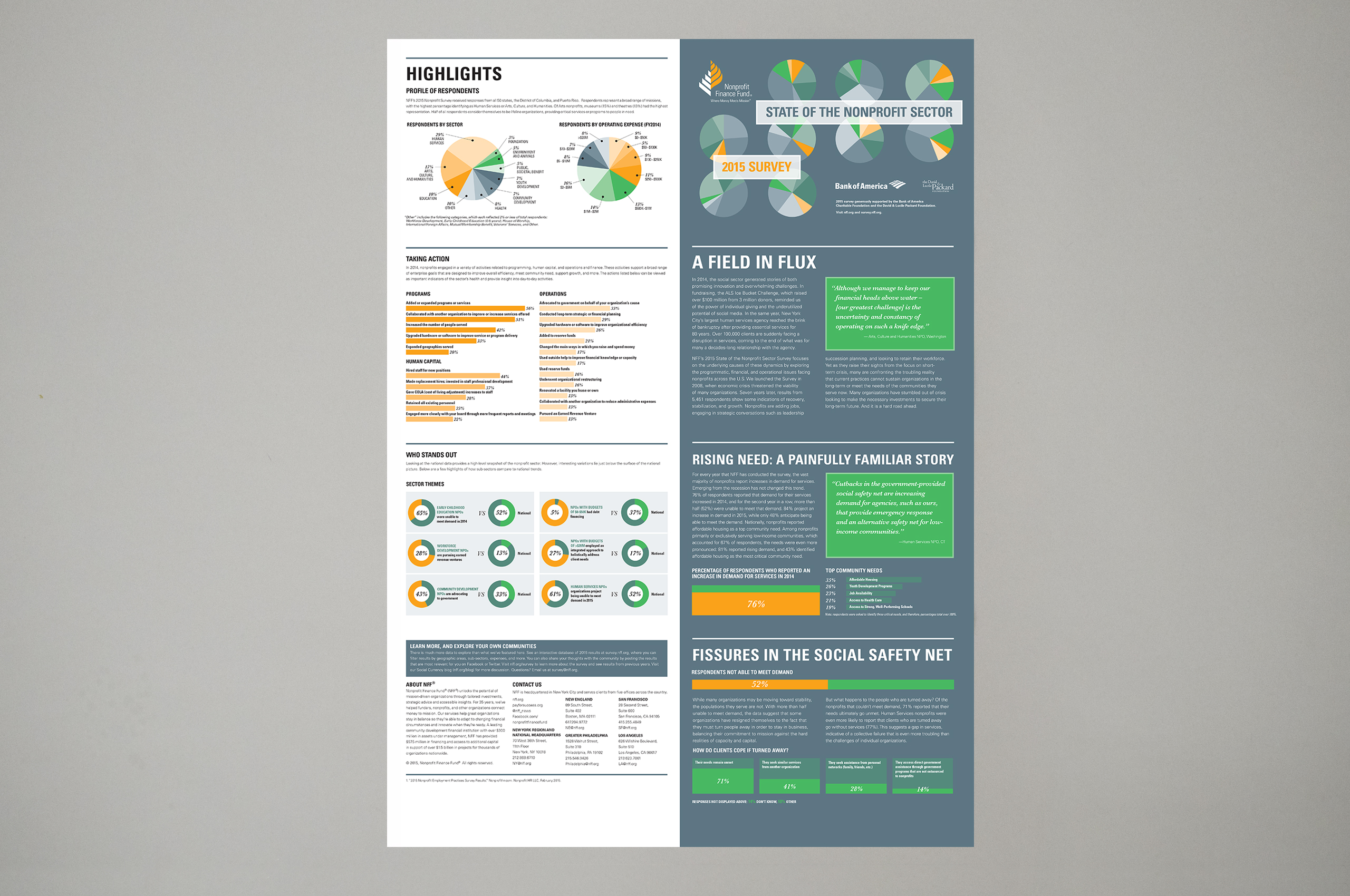 Nonprofit Finance Fund, 2014 and 2015.
Design for a double-sided 18x24" poster for Nonprofit Finance Fund's Annual Survey. The survey "explores the challenges facing nonprofits and calls out some of the targeted investments we can start to agree on to better support the social infrastructure we all rely on." The poster was designed to fold down to a 6x9" mailer as well. The pdf version of the survey can be seen
here
. (Designed at C&G Partners. Creative Director for 2014: Sam Shenova, 2015: Maya Kopytman)